tinysofa
6 in 1 Derma Roller Microneedling Kit
Sale price Price $29.95 Regular price $29.99 Unit price / per
Are you struggling with post pregnancy stretch marks & other body image issues?
Is your acne still acting up, after you've tried everything?
It's time to make a change and use the Derma Roller Microneedling Facial Roller for Premium Skin Care and Body Treatment. This Derma Roller attacks blemishes on your face and body.
How Does It Work?
The theory is derma rollers create controlled injuries to the skin in the form of micro punctures. This sends signals to your body for a boost in collagen and elastin production.
Numerous studies show an improvement for a range of skin conditions such as acne scarring, melasma and hair loss. The results also point to an overall plumping and firming of the skin.
How Do You Use The Derma Roller?
1. Interchange the derma roller head properly according to the treatment.
2. Sanitize and soak the roller with 75% medical alcohol in disinfection basin for 5-8 minutes.
3. Wash your face thoroughly with brush and dry completely.
4. Apply suitable nutritional lotion/serum on the area of skin that the roller is to be used.
5. For best results use light pressure, gently roll over skin in horizontal, vertical, and diagonal directions. Pass each area of the skin 4-5 times per direction. Do not roll over the same section more than 10 times.
6. Rinse roller in warm water then sanitize.
7. After derma rolling, reapply desired skincare product or serum or mask products on the skin that requires care in case of skin inflammation.
Package Included
1x 12 needles derma stamp (0.3mm)
1x 300 needles roller head (0.25mm)
1x 720 needles roller head (0.3mm)
1x 1200 needles roller head (0.3mm)
1x Silicone brush
1x Disinfection basin
1x Instruction
Features
Transformation
Don't worry about wrinkles, stretch marks and large pores. Our press-loved derma roller promotes a luminous, youthfully vibrant and healthy-looking complexion. This derma roller attacks aging, post pregnancy and skin ailments!

Safe and Painless
No need to worry! Our we've surveyed all of our customers and have consulted with multiple estheticians and the recommended microneedle lengths requires firm yet gentle pressure to maximize usage and minimize discomfort. Short 0.25mm and 0.3mm micro needles are non-invasive skin, do not penetrate living layers of skin, safe use at home. 0.25mm for new user, and 0.3mm will have better treatment effect.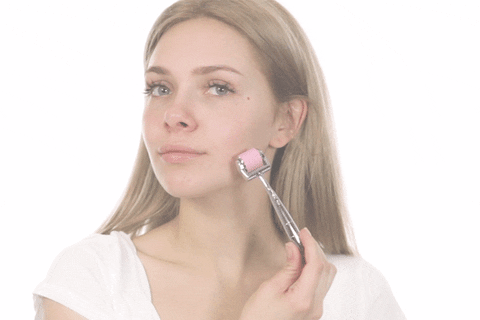 Healthy and Reliable Process
The derma roller facilitates exfoliation. Prepares skin for better absorption of creams, serums and moisturizers. It improves your skin's appearance with a luminous look and healthy glow. 
It's recommended to use your favorite Hyaluronic Acid Serum or other treatment for best results!
Affordable Alternative
Professional microdermabrasion sessions cost hundreds if not thousands of dollars (plus hours at the clinic). With consistent use, you can the quality for less than the price of a week's worth of lattes!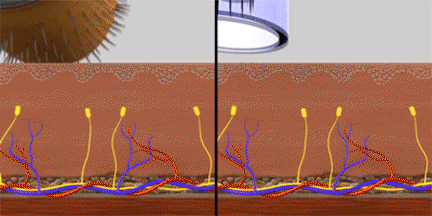 Powerful Design
Our premium derma roller needling design is carefully constructed to make sure you get the best results possible. It takes as little as 60 seconds to use and will help you reach your goals fast.