tinysofa
The Handsfree Baby Carrier by The Tiny Sofa
Sale price Price $64.99 Regular price $59.99 Unit price / per
Is your baby getting bigger and bigger? Are you struggling to lift them for long periods of time? Are your back, shoulders and arms hurting? 
Do you have work or errands that need to be done? Is your baby too fussy for you to finish what you need to do?
We have a solution!

The Handsfree Baby Carrier by The Tiny Sofa is made to help parents lift and hold their baby for an extended period of time without any drawbacks. You can head to the beach, the store, to dinner and even to Disneyland without any worries! You can call, email and shop without any worries! You'll be nimble and have the ability to do anything with the help of the Handsfree Baby Carrier by The Tiny Sofa.
This is an essential product for all new parents!
Shop for Quality at The Tiny Sofa
Features
Handsfree
No need to use your hands to carry your baby! That's taken care of. The Handsfree Baby Carrier by The Tiny Sofa his designed for the sole purpose of allowing parents to use their hands for other things while they carry their babies along for the ride.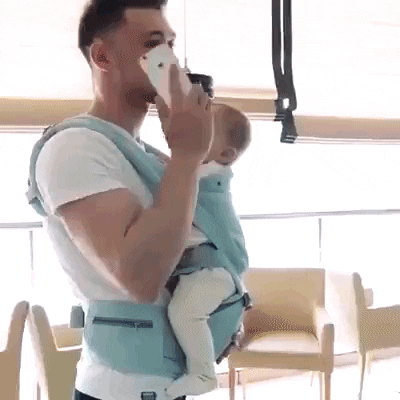 3-in-1 Baby Carrier
The incredibly designed Handsfree carrier comes as two carriers and combines into another carrier.
Over-The-Shoulder Carrier
Single Hip seat Carrier
Multiple Color ways
The Handsfree Carriers come in multiple fun color ways that match your style, personality and wardrobe!
Perfect for Ages 1-36 month
The Handsfree Carrier is easily configured to accommodate any child from the first month to 36 months. This Handsfree Carrier is going to be a great investment for many years!
Comfortable for Baby & Parent 
This handsfree carrier provides support for your baby as well as yourself. This ergonomic product possesses shock absorbing material you won't have to worry about putting pressure on your baby's spine during your trip.
The belt is also filled with an elastic component that evenly distributes the force on your waist.